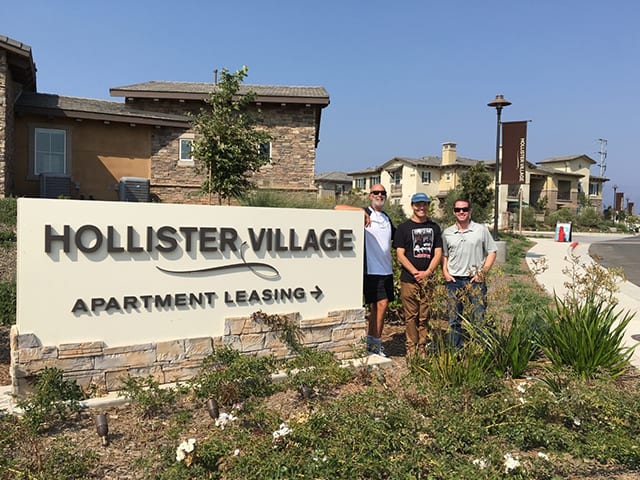 Ken Palley and Dr. Mark Morey from Surfrider Foundation, Santa Barbara Chapter accept a donation from Zach LeLevier-Joseph (Vice President / Property Manager) of Westar Associates. 
Goleta, CA – Westar Associates, the real estate developer for the Hollister Village mixed-use project in Goleta, has recently donated $5,000 to the Surfrider Foundation Santa Barbara Chapter. The Surfrider Foundation is a national non-profit environmental organization dedicated to actively preserving and protecting the world's oceans, beaches, and sea life.
Before accepting the donation, Dr. Mark Morey and Ken Palley from the Surfrider Foundation Santa Barbara Chapter took a tour of Hollister Village to receive a better understanding of the development's green approach. They were shown various features including drought tolerant landscaping, EV charging stations, solar panels, bio-retention areas, bio-swales, and storm water detention system and filter chambers.
"Surfrider Foundation Santa Barbara Chapter is proud to have been chosen as the recipient of a very generous $5000 contribution from Westar Associates," says Dr. Mark Morey, Chapter Chair, Surfrider Foundation Santa Barbara Chapter.  "Westar's Hollister Village is a perfect example of the sort of responsible 'green' developments that our chapter has pushed so hard for and fought with so many other projects that failed to recognize the environmental and economic benefits that can go hand in hand with good will and good planning.  The sophisticated landscaping runoff control measures utilized at Hollister village will result in as close to zero ocean pollution as possible. Thank you Westar and we salute your commitment to our environment."
Dr. Mark Morey and Ken Palley expressed the most interest in the underground detention system filters and filter chambers, which collect sediment and trash to minimize pollution from runoff, as well as all of the curb cuts throughout the property that allows water to drain to the bio-retention areas and bio-swales.
As a result, Ocean Friendly Gardens, a program that is part of the Surfrider's Clean Water Initiative, now recognizes the Hollister Village project as a development that applies CPR – Conservation, Permeability, and Retention to its landscapes and hardscapes. Hollister Village is the only shopping center and apartment community to receive this acknowledgement in the City of Goleta.
"It is wonderful to hear that our Hollister Village project is being acknowledged for its eco-friendly landscape and design," said Jud Dutrisac, Chief Operating Officer of Westar. "Responsible development is crucial, especially in the city of Goleta where the ocean is right in our backyard. We expect many of these techniques to serve as a model for future development."