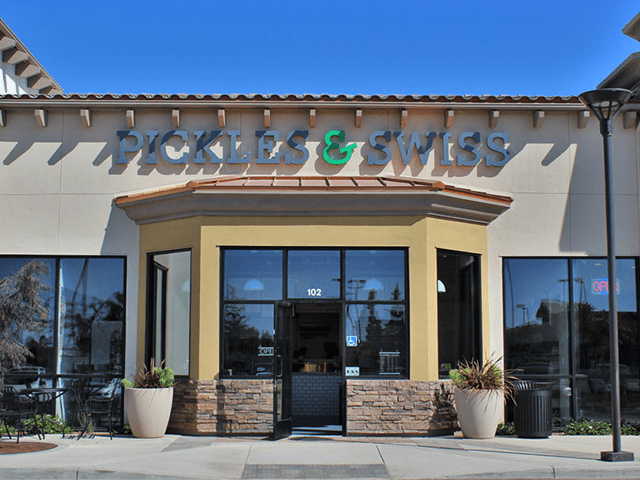 Pickles & Swiss, a gourmet sandwich shop in downtown Santa Barbara, has opened a new location in the Hollister Village shopping center in Goleta. (Sam Goldman / Noozhawk photo)
As part of the continuous opening of business after business in Goleta's newly finished Hollister Village apartment and shopping complex, Santa Barbara's Pickles & Swiss restaurant has achieved a longtime goal: expansion into a second location.
The sandwich shop, whose original location is in downtown Santa Barbara's Paseo Nuevo shopping center, opened its Goleta store last week at 7060 Hollister Ave. "We've always had in mind that we wanted to open up more than one location," said the new place's manager, Blake Hayashi, who has been with Pickles & Swiss since its inception in 2012.
"It was never our goal just to have one" shop, Hayashi told Noozhawk. "It was just about securing the first location first, getting it settled in and everything right, and then working on it and opening up more locations." The prospect of opening in a brand-new space alongside numerous other brand-new businesses in Hollister Village, he said, made the location an enticing choice for restaurant No. 2.
Pickles & Swiss offers a wide variety of hot and cold sandwiches, build-your-own sandwiches, paninis, wraps, soups and salads.
The restaurant emphasizes its use of fresh, local and homemade ingredients; aside from its sliced deli meats and cheeses, everything is made on-site, Hayashi said. "We always tell the customers and people how much love and effort we put into everything, because that's what sets us apart," he said. "It's a gourmet sandwich shop — everything's made in-house."
"The whole atmosphere inside is an upbeat, fun atmosphere," he added. "Everybody's having a good time. It's positive energy, and it's going above and beyond, as far as customer service goes.
"We cater it a lot towards customers, and we're about letting people try things. When you come in, we usually give you sample cups of our homemade soups."
The new Pickles & Swiss is open from 10 a.m. to 7 p.m. Monday through Saturday, and 10 a.m. to 5 p.m. Sunday, though management is still settling Sunday's hours.