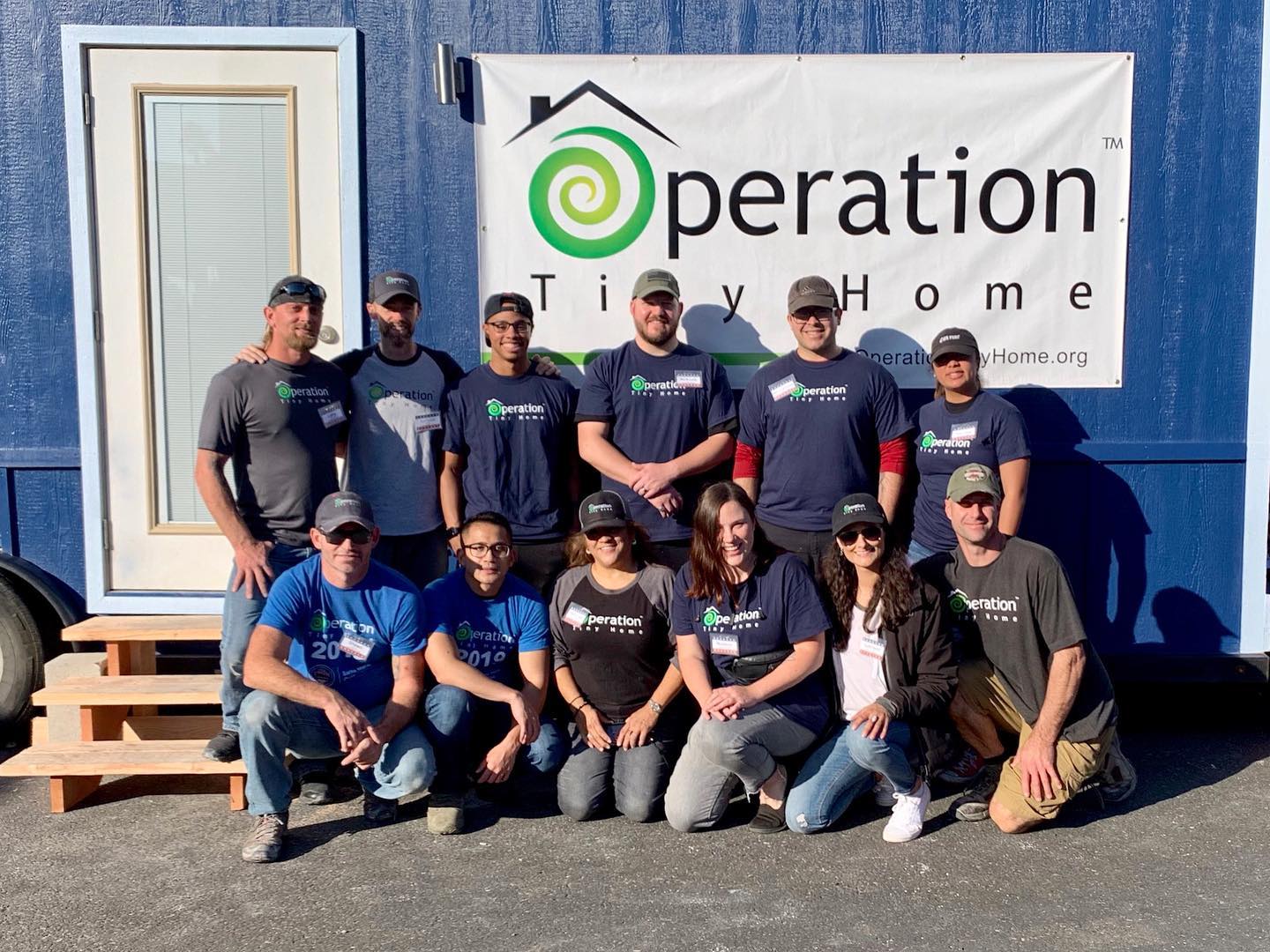 SANTA MARIA, CA – Big dream. Tiny homes.
The completion of the first tiny home is a dream come true for Sandy Blair and Operation WEBS, or Women Empowered Build Strong, the nonprofit organization Blair started in 2017.
"We've had a tremendous amount of community support," said Blair. "We want to build a community of women veterans. We provide resources for women veterans to build a safe place where they can rebuild their lives while also creating a farming community to give women vets a purpose and create a sense of self-worth.
"We're not just providing shelter," she added. "It's a complete process of rebuilding someone."
There was nothing like Operation WEBS available to Blair when she completed 12 years in the Air Force in 2005.
Born in Jamaica and raised in southern New Jersey, Blair, 45, had been trained as a dental hygienist but wasn't certified for the same job as a civilian.
"I just couldn't find my footing, I couldn't get a job," said Blair. "And it takes about a year for the Veterans Administration to decide what benefits I was eligible for. The wait is what cripples veterans."
For Blair, that began to change when she met Gabrielle Rapport.
"Sandy came to one of our workshops in Sacramento in 2017, and that's where we met," said Rapport who started the nonprofit, Operation Tiny Home. "We teach construction skills to veterans, so far over 500 all across the nation.
"They can then take these skills to rebuild their lives, help us build tiny homes for other veterans or themselves. This home will go to support a female veteran here in Santa Barbara County."
Blair, Rapport and 65 volunteers spent three days on the north side of the Santa Maria Home Depot parking lot, putting the finishing touches on Operation WEBS' first tiny home on Saturday.
"We brought in the shell of the house, and the volunteers are doing the finishing work, the finish carpentry," said Rapport. "This is our first donation to Operation WEBS and the Santa Barbara County community. Our goal is to help as many displaced women veterans as we can."
"We've identified that homelessness is one of the issues we need to focus on," said Santa Barbara County 5th District Supervisor Steve Lavagnino. "At our recent Stand Down, we identified 450 people as being homeless in Santa Maria, and 15 percent of them are veterans, 18 of them women.
"We've got to think outside the box and Sandy Blair has stepped up in a major way," he said. "Instead of complaining about the problem, she stepped up and found a solution."
The tiny home measures 288 square feet, and while it's small, it comes with everything you get in a full-size home.
"All the furniture is multidimensional," said Rapport. "Everything is thoughtfully designed to get the most out of the space. A bed isn't just a bed, it's also a table. Everything has multiple uses.
"This will provide safe, affordable high-quality housing," she said. "People are excited, intrigued. We want them to leave with a sense of awe."
When it got here, the tiny home was just a shell on wheels.
The volunteers spent the next three days building it out, putting complete living quarters inside and a wood deck on the outside.
Many of the volunteers were active-duty men and women from Vandenberg Air Force Base. Others came from sponsoring groups Halsell Builders, Home Depot, Milwaukee Tool and Wells Fargo.
"This home will not only be the first to support a female veteran here in Santa Barbara County, it also gives us the chance to teach carpentry and construction skills to active-duty military and veterans," said Rapport. "They can then take these skills and build additional skills while also building a life for themselves after their military service ends."
Sponsors also were enthusiastic.
"It's an honor to be able to help with this as a person and a company," said Wells Fargo Vice President and Area Manager Mark Corella. "To have Operation Tiny Home come to our community and for us to get dirty with them, to have the community involved, is invaluable."
It's not just about housing. Operation WEBS plans to help women vets get a fresh start on their careers with a farming operation that will grow red oak trees to replenish the supply that has been lost to the devastating wildfires of the last few years.
"When we come out, we're just as mission-driven as when we went in," Blair said. "The desire to serve is still there and when that is not available to you, you feel lost, depressed. It just beats you down.
"The Image of a homeless veteran has to change. This will help us support our women vets while we build for the future."