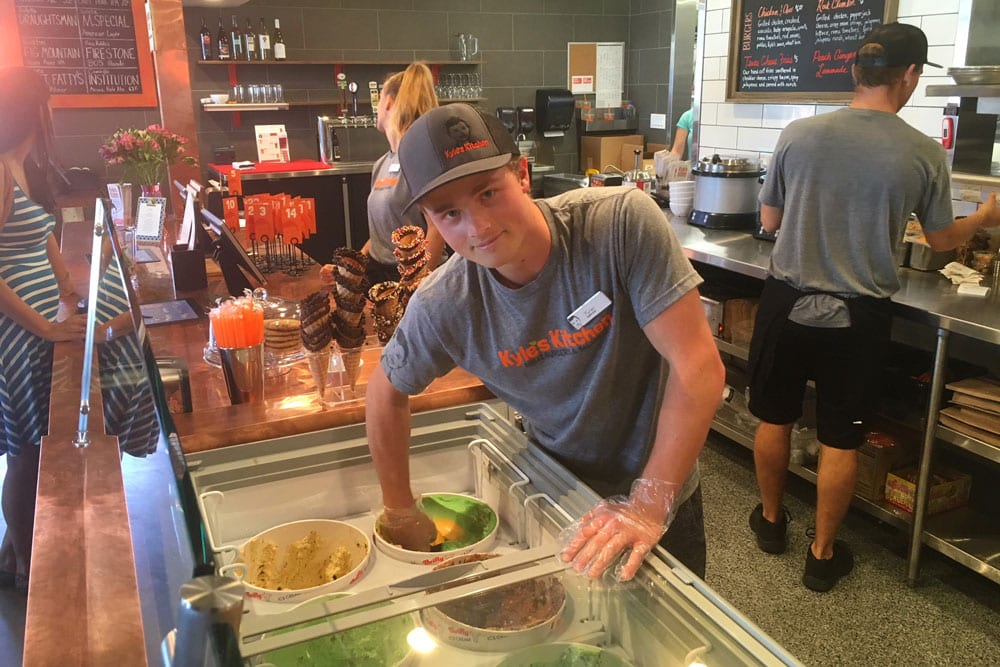 Kyle has a new kitchen. And this one serves ice cream.
The owners of Kyle's Kitchen have opened a third restaurant, this one in the Hollister Village Plaza in western Goleta.
"This area is really growing," said owner Deena Ferro. "Goleta has been so amazing to us. We wanted to be part of this community."
Deena and her husband, Jay Ferro, opened the restaurant at 7000 Hollister Village this past Wednesday. The restaurant is named after their son, Kyle, who was born with a brain injury and has special needs.
They own two other restaurants, at 5723 Calle Real in Goleta and 791 Chapala St. in downtown Santa Barbara.
Jay Ferro started the restaurant Silvergreens when he was a student at UCSB.
The new restaurant, like the others, pays artistic homage to Kyle, 13.
His face decorates one of the walls of the restaurant, and Kyle loves to spend time in the restaurants and already the new Goleta location is his favorite.
The family style eatery offers some new features: single, double and triple scoops of ice cream, on chocolate-dipped cones. The cones start at $3 for a single and go up to $5 for a triple.
But don't be afraid to indulge in that $5 scoop. Some of the money goes to a good cause.
Deena and Jay donate a portion of their sales each month to a special needs organization. Employees also have the option to donate their tips to the organization.
"We wanted to figure out how to give back to the community," Deena said.
Kyle can often be seen hanging out at the restaurant. The youngster has worked to overcome his challenges. He was blind for the first year of life and had to undergo extensive training and rehabilitation to talk, walk and perform other daily activities.
His mother said that despite some of his earlier challenges, he figured out a way to make an impression on people.
"What he lacked in communication, he made up with connection to people," she said. "He just wanted to be around people."
On the walls of the restaurant hangs art created by the Slingshot Art Gallery, developed by the Alpha Resource Center. The program promotes artists with developmental disabilities through participation in gallery and juried art shows.
It's likely that you will run into Kyle if you eat lunch or dinner at the restaurant. He's a happy kid, with the infectious smile.
"He sees the good in everyone," Deena said.