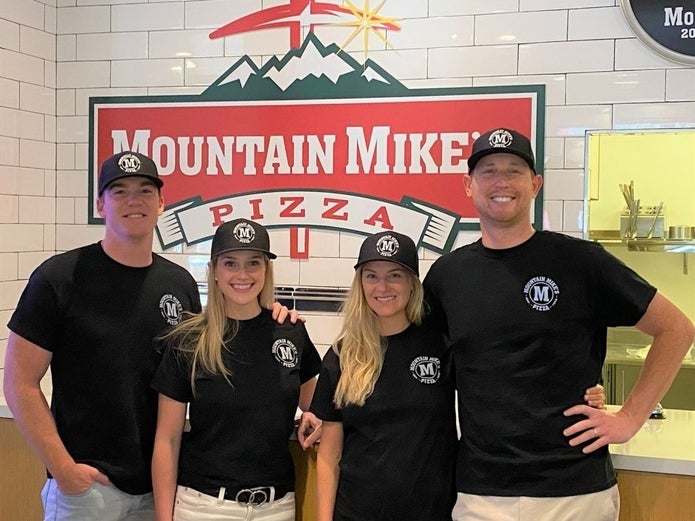 RANCHO SANTA MARGARITA, CA — South Orange County residents and longtime friends, Annie and Garrett Beck and Sean and Casey Calcagnie, recently opened the newest Mountain Mike's Pizza restaurant in Plaza Antonio in Rancho Santa Margarita.
"We grew up in the area and have deep roots in this community, and now with families of our own, bringing Mountain Mike's to Rancho Santa Margarita has truly been a full-circle moment for us," the Becks said.
The new pizzeria marks the fourth O.C. Mountain Mike's, a chain launched more than 40 years ago in Palo Alto that prides itself on its fresh-made dough and "Mountain-sized" pizzas covered with crispy, curly pepperoni.
Adjacent to the Pavilions market, the 4,642-square-foot, Rancho Santa Margarita locale features an outdoor patio, an arcade area, 10 big-screen TVs, plus indoor and outdoor bars with a 20-tap selection of local beers, according to the owners.
The kid-friendly establishment also caters to team parties, family gatherings and group fundraisers.
"We realized that RSM was in need of a restaurant like Mountain Mike's where friends, families and sports teams could gather and celebrate over some really amazing pizza," the Calcagnies said. "We're proud to join the RSM community and are looking forward to creating delicious memories with our new guests for many years to come!"
The new Mountain Mike's is at 22431 Antonio Parkway, and is open for dine-in, takeout and delivery Sundays through Thursdays 11 a.m. to 9 p.m., and 11 a.m. to 10 p.m. on Saturdays and Sundays. For menu and ordering info, follow this link.
Other Mountain Mike's in Orange County include sites in Lake Forest, Costa Mesa and Fountain Valley.