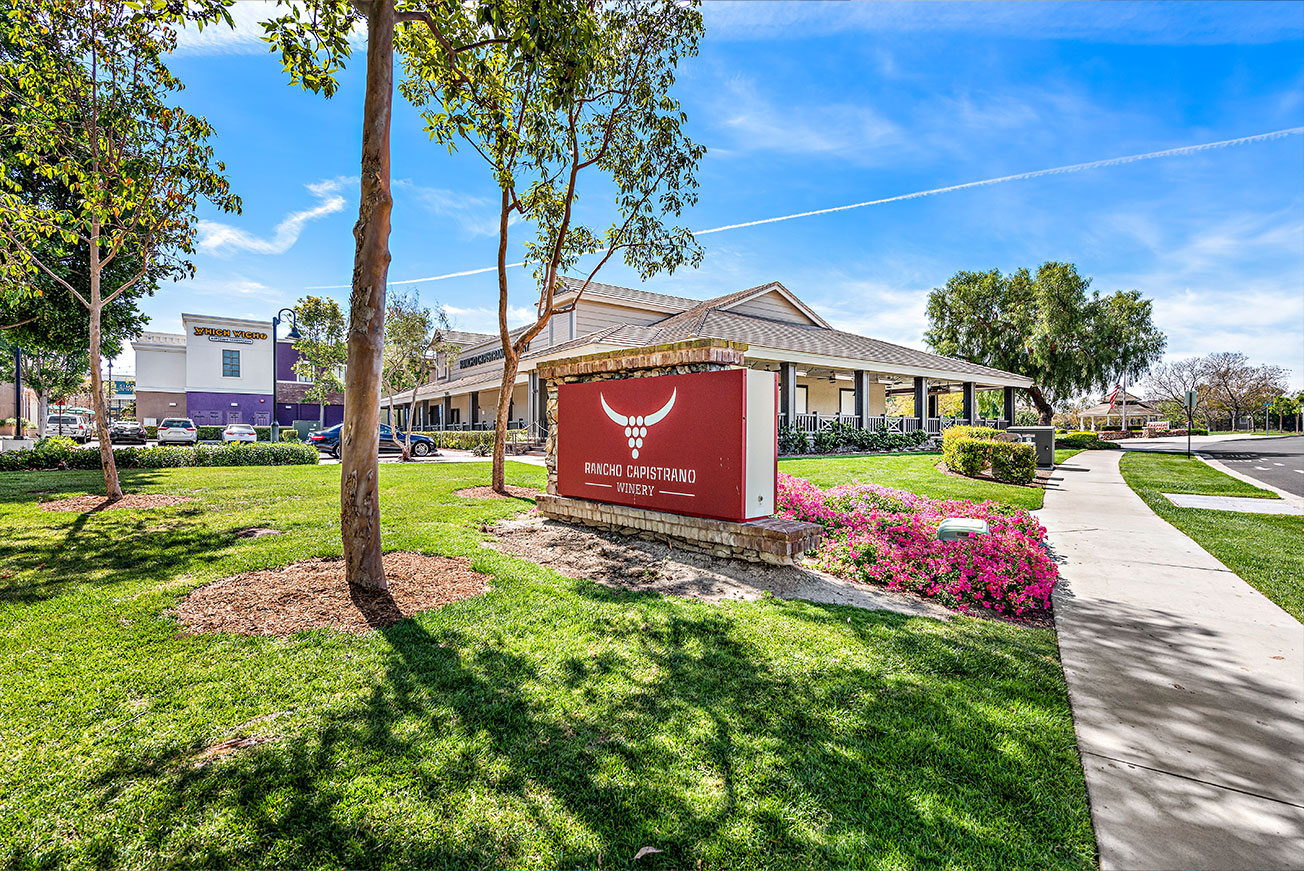 LADERA RANCH, CA – Rancho Capistrano Winery is the largest winery in Orange County. In addition to the 30+ handcrafted wines they produce, this stunning winery also serves up award-winning cuisine to pair with their West Coast wines at locations in San Juan Capistrano and San Clemente. And things are just getting bigger and better: this month, a third location opened in Ladera Ranch and is creating quite the buzz as this beloved OC staple becomes more accessible to locals and visitors alike.
Now located at the Mercantile West, Rancho Capistrano Winery's Ladera Ranch location is set to be the largest of them all, making it a wonderful place for your next event or party. Though their other locations boast spacious patios, Ladera Ranch tops the others with a 3,000-square-foot patio, making it one the largest patios in the southern part of Orange County. Snag a table outside and spread out with a group of friends for a fun tasting or boozy brunch!
Even aside from the patio, the winery has more than 5,000-square-feet of space, making it much larger than either of its sister spots. One of the main features of the Ladera Ranch location is the picturesque bar that overlooks Town Green Park. Immerse yourself in the experience as you look out onto the rose gardens and at the historic oak tree below, all while sipping a crisp and buttery glass of chardonnay.
While many come for the varieties of wine, most stay for the food. Having been granted several "Taste of San Juan" awards, Rancho Capistrano Winery exceeds the expectations of your taste buds. In addition to fan favorites like the crispy Brussels sprouts and fig bruschetta, the Ladera Ranch location has an even more expansive menu. Thanks to the larger kitchen, guests can expect innovative and exciting dishes from Executive Chef Adrian de la Torre that are available exclusively at Ladera Ranch.
Whether you want to pop in for a bite to eat and a glass of wine at lunch or an early dinner at sunset, Rancho Capistrano Winery is open for lunch and dinner every day (except Mondays), along with brunch on Saturday and Sunday. Snack on an artisan cheese plate that is curated to pair perfectly with your wine. Looking for something more lively? Ladera Ranch also hosts live music throughout the week, bringing you dinner and a show outdoors.
Rancho Capistrano Winery
25612 Crown Valley Pkwy
Ladera Ranch, CA 92694
@ranchocapistranowineryladera