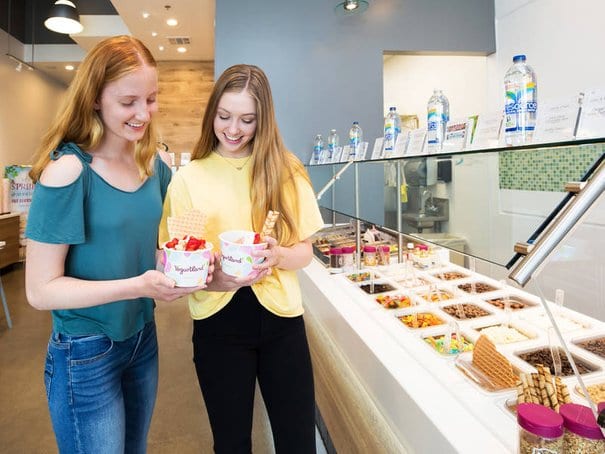 RANCHO MISSION VIEJO, Calif. – Rancho Mission Viejo residents and visitors have a new spot to escape the summer heat and grab a sweet treat: Yogurtland.
The business, which offers handcrafted frozen yogurt and a wide assortment of toppings, opened at the Sendero Marketplace on June 20.
Visitors can find both non-fat and low-fat frozen yogurt and ice cream using milk that contains no antibiotics or added hormones, according to a news release. New and novel flavors come out regularly thanks to Yogurtland's "flavorologists".
Some of the more recent flavors include Cookies & Crème Smores, Jolly Rancher Blue Raspberry Sorbet and Butter Pecan Light Ice Cream. Toppings range from fresh cut fruit to candy bars.
"At Yogurtland, people of all ages enjoy a transformational moment of imagination and joy," Elizabeth Hargreaves, one of the new location's owners, said. "It's a place where everyone feels like a kid again because they're creatively playing with amazing flavor combinations."
Hargreaves said she's not just looking forward to giving customers a positive experience, but also creating an educational and rewarding experience for the young adults she employs. She said that for many, this is their first job.
"Yogurtland is never boring and there is always something for employees to be doing whether it's attending to branding details like making sure the strawberries in the water machine are properly cut, cleaning many times a day and even delicate machine calibration," she said. "It takes a great work ethic and a kid willing to take initiative and multi-task."
The Rancho Mission Viejo Yogurtland is just one of more than 320 locations across the nation and around the globe. The Irvine-headquartered company has storefronts in such countries as Dubai, Thailand, Australia and Venezuela.
The Sendero Marketplace shop is open from 11 a.m. – 9 p.m Sunday through Thursday and 11 a.m. to 10 p.m. Friday and Saturday.