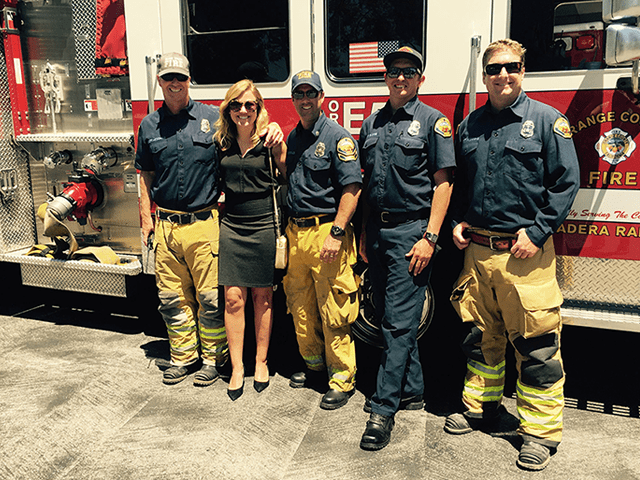 Ally Ellison, Director of Media for Westar Associates, recently presented a check for $5,000 to Scott Macdonald, Captain Steve Concialdi, Bob Embree, and Scott Hawkins of the OCFA.
Costa Mesa, CA, August 31, 2016 – Westar Associates, an Orange County real estate development and management company, has donated $5,000 to the Orange County Fire Authority Department Benevolent Association.
The OCFA Benevolent Association provides physical, financial, and emotional support to its members and their families during times of need. Their support and services can include hardship loans and grants, funeral assistance, death benefits, scholarships, and other assistance.
"This generous donation will go to help OCFA firefighters or their families who become seriously ill or injured while they are off duty," said Orange County Fire Authority Captain Steve Concialdi. "This was a wonderful gift and we are humbled by Westar's generosity."
The company also recently donated $10,000 to the Orange County Sheriff's Department.
"We are dedicated to creating a positive effect on the communities we serve, and take pride in giving back to local organizations," said Jud Dutrisac, Chief Operating Officer of Westar. "We greatly admire the men and women of the Orange County Fire and Police Department, who risk their lives every day to ensure the safety of the local community.This is our way of showing appreciation and support for these individuals and the important services that they provide to the community."
About Westar Associates
Based in Costa Mesa, California, Westar Associates is engaged in the acquisition, development and management of real estate including neighborhood, community, and freeway shopping centers, apartments, self-storage facilities, and hotels. Westar has developed and acquired 55 properties totaling more than 5.6 million square feet, valued in excess of $1.2 billion.