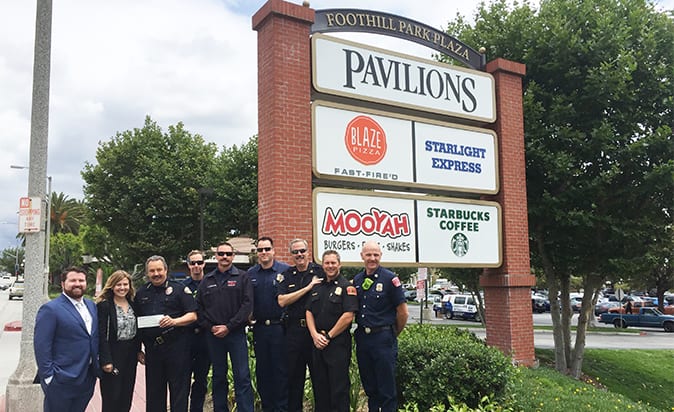 Members from the Monrovia Police Department and Firefighters Association gather in front of Foothill Park Plaza to accept donation from Westar Associates. 
MONROVIA, CA (MAY 2016) – This month, Westar Associates made a charitable donation to the Monrovia Police Department Explorers Program and the Monrovia Firefighters Association this month to show their ongoing support to the city of Monrovia.
The Police Explorers program offers the opportunity for teenagers and young adults from the ages of 14-20 to learn about a career in law enforcement directly from active police officers. The Explorers can engage in competitions with their peers that help them learn the tactics of police work, volunteer at community events, and even get the opportunity to ride along with an officer on patrol to experience first-hand the every-day role of police officers.
"I want to thank Westar Associates for being a supportive community member in the City of Monrovia," says Jim Hunt, Monrovia Police Chief. "Your generous donation is greatly appreciated and will go toward a program that will help develop young people in the community through our Police Explorer Program."
The Monrovia Firefighters Association plans to use their donation to continue to provide support to non-profit organizations within the Monrovia community such as the YMCA, Boys and Girls Club, Muscular Dystrophy Association, Relay for Life, Firefighters Quest for Burn Survivors, & Alisa Ann Ruch Burn Foundation.
"Westar's generous donation will go directly back to the members of the community when they need it most," says Brad Dover, Interim Fire Chief. "It allows our firefighters be the bridge of hope when tragedy strikes."
For over 30 years, Westar Associates has managed and operated Foothill Park Plaza, located on the southwest corner of Foothill Blvd. and Myrtle Avenue in Monrovia. The center is anchored by Pavilions Supermarket.
"We enjoy giving back to local organizations that help the community become a better place for people to live, work, and shop," says Jud Dutrisac, Westar Associates' Chief Operating Officer. "We greatly admire the men and women of the Monrovia Police and Fire Department and this is our way of showing our support for these individuals and the important services that they provide to the community."
For more information on Westar Associates, please visit: http://westarassociates.com/. To learn more about The Police Explorers program, please visit: http://www.cityofmonrovia.org/police/page/explorers and to learn more about the Monrovia Firefighters Association, please visit: http://monroviafirefighters.org/index.cfm?section=1.