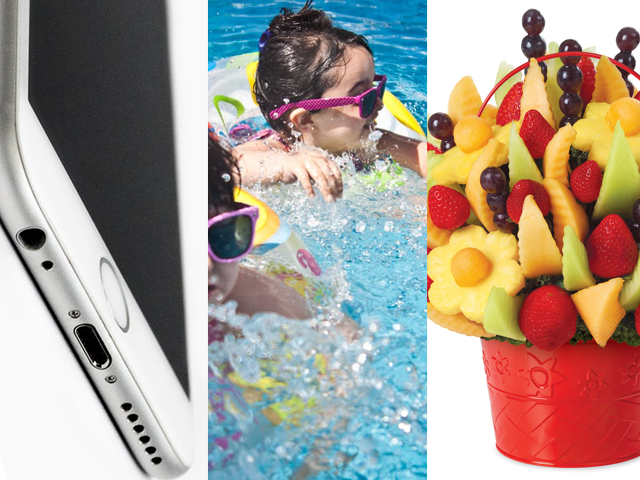 SANTA MARIA, CA (March 1, 2017) – Westar Associates, which operates the College Square shopping center in Santa Maria, is excited to announce that three businesses will soon join the shopping center including Leslie's Swimming Pool Supplies, Edible Arrangements, and Smart Phone Fix. The College Square shopping center is located on the corner of Betteravia Road and College Drive, and is anchored by Panera Bread and Starbucks.
Leslie's Swimming Pool Supplies will occupy space #D-9, a 3,300sf space on the corner of the center, facing College Drive, close to T-Mobile, See's Candy, and Wingstop. Leslie's offers a comprehensive product line including pool chemicals, cleaning devices, equipment, parts, recreational and safety products, as well as many unique items for the backyard and patio. At Leslie's, customers can find the necessary items to make owning a swimming pool and spa fun and easy, at the best prices guaranteed.
Edible Arrangements will be located in unit #A-2A, a 1,560 sf space in between Starbucks and Jamba Juice. Edible Arrangements creates fresh fruit arrangements including The Original Fresh Fruit Bouquet™, gourmet chocolate dipped fruit, and dozens of fresh fruit treats. Whether it's a birthday or simply a Tuesday, they have fresh fruit gifts that can be used for every occasion. Orders can be made for pick-up or delivery, seven days a week.
Smartphone Fix will occupy space #D-8, a 1,115sf unit near T-Mobile, See's Candies, and Wingstop.  Smartphone Fix offers what customers need to fix their smartphones, ipads, tablets, laptops and more.  Most cellphone repairs are done in less than an hour and most tablet repairs are completed in 2-3 hours. The store also offers accessories for electronic devices including but not limited to cases, chargers, and screen protectors.
The College Square shopping center in Santa Maria is located on 570 Betteravia Road in Santa Maria. Other businesses in the center include Panera Bread, Starbucks, Jamba Juice, Me N Eds / Figueroa Mountain Brewing Company, and Verizon.