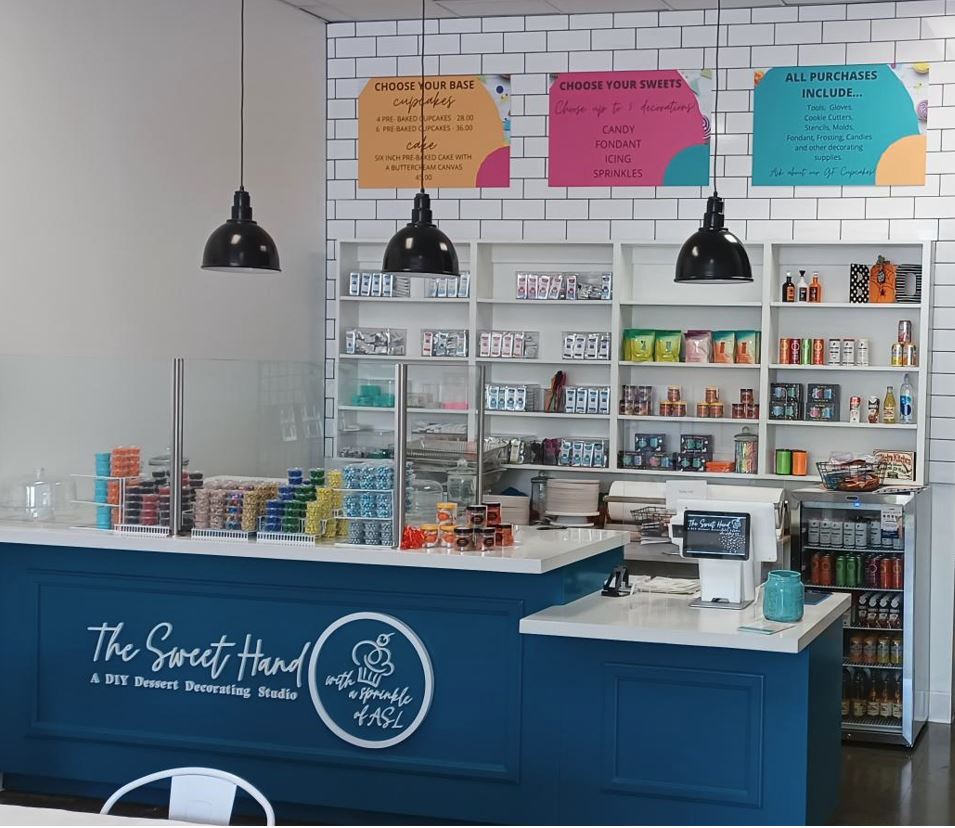 Ladera Ranch, CA, Sept. 24, 2021 – The Sweet Hand, a unique new do-it-yourself dessert decorating studio that also offers a sprinkle of ASL (American Sign Language) has opened at Mercantile West in Ladera Ranch. The decorating studio will celebrate its grand opening on Saturday, Oct. 2 from 4 to 6pm with a ribbon cutting, music, food, drinks, and a dessert bar.
Owned by Ladera Ranch resident Abigail Longo, The Sweet Hand will welcome walk-in customers who wish to decorate desserts, along with host classes, events, and private parties. Longo, who is Deaf and previously taught Deaf children, will offer the classes for students of all ages. Parents of Deaf or hard of hearing children can take ASL classes for free, and The Sweet Hand will also offer ASL Story Time every other Tuesday for children.
The Sweet Hand provides everything customers need to have a creative and delicious experience, including pre-baked cookies, cupcakes, and cakes; icing and fondant; toppings; decorating tools; and a take-home box if you prefer to wait to eat your treats.
Longo shares that The Sweet Hand was inspired by her three daughters love of dessert decorating and her own love for teaching Deaf children.
"One of our favorite activities is dessert decorating," Longo said of her and her daughters. "We have also always enjoyed learning together, but many classes aren't accessible or accommodating to Deaf or hard of hearing students of any age. This gave me the idea to start The Sweet Hand. This business brings hands-on fun and connects both deaf and hearing people in a creative environment."
Longo – who has a mixed family of Deaf, SODAS (Siblings of Deaf Adults), and CODAS (Children of Deaf Adults) – previously owned a DIY pottery painting business and ASL studio, The Expressive Hand, in Philadelphia before relocating to Southern California. A graduate of California State University of Northridge, she also has a master's degree from Columbia University, Teachers College.
"Many Deaf people have a hard time finding jobs even with top notch degrees and skills because many people feel it's too complicated to hire due to communication issues," explained Longo. "If being Deaf was looked at as a linguistic cultural minority instead of a disability, I think more people would be open to hiring us. I'm excited to open that door with The Sweet Hand."
The Sweet Hand is open Tuesday through Thursday from 10am to 7pm, Friday and Saturday from 10am to 9pm, and Sunday from 10am to 6pm. Mondays are open for ASL classes only, beginning in January. The studio is located at 25642 Crown Valley Pkwy., Suite E2, in Ladera Ranch. For more information or to book a party for six or more people, call (949) 339-3477 or visit https://thesweethand.com/.
Mercantile West is managed by Westar Associates, which has managed and leased all four retail centers in Ladera Ranch since the community was developed 20 years ago. Based in Costa Mesa, Westar is engaged in the acquisition, development, leasing, and management of real estate including neighborhood, community, and freeway shopping centers, apartments, self-storage, and hotels. Westar has developed and acquired 78 properties totaling more than 8.3 million square feet, valued at more than $2.6 billion.
For more information on Mercantile West, please visit www.ShopDineLaderaRanch.com.