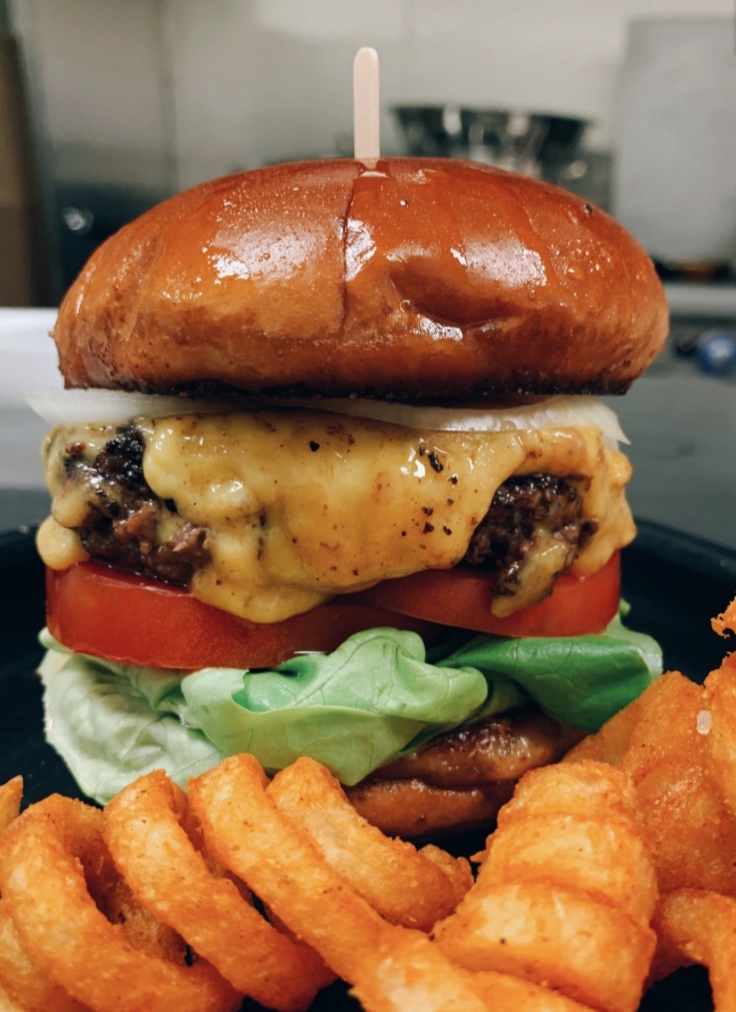 SANTA MARIA, CA – Annie Greene saw what she figured was a culinary need in Santa Maria. So she decided to fill it.
"There isn't much upscale fast food here, and most of what there is is pretty expensive," she said.
So she and friends Michael Xu and Claire Reyes decided to open a new restaurant that features what Greene bills as upscale fast food.
"We had been thinking of opening a restaurant for quite some time," Greene said.
Their spot, the 101 Grill, opened in the The Crossroads shopping center in Santa Maria on Sept. 26, offering a variety of proteins, sandwiches, and salads. 
Burger fans should check out the Cult Classic Burger, with a hearty slice of cheddar atop a 1/3-pound patty, lettuce, and tomato. It comes with a choice of fries, julienne or curly. Meat lovers can also salivate over the beef fajitas, barbecued short ribs, or teriyaki chicken. 
Salads at 101 Grill are about more than lettuce, with options like macaroni salad, potato salad, and a Korean favorite—kimchi salad, which features cabbage soaked in garlic, ginger, soy sauce, vinegar, and chili flakes. 
Of course, it wouldn't be fast food without a fryer, so 101 Grill's Out of the Basket offerings include delicately fried shrimp dishes—crispy torpedo shrimp and honey golden shrimp—panko-crusted pork or chicken katsu and garlic fried chicken, which come with rice, mixed greens, and your choice of one of the aforementioned salads.
Although there isn't indoor dining available just yet, customers can order takeout or can dine outside in the complex's common dining area. Vogue Nails is on the immediate left of 101 Grill, and Blenders is on the right. 
Greene said that business has started out fairly slowly, but she's hoping that as more people learn that 101 Grill is open, the number of customers will pick up. 
"We'll do a promotion Nov. 1," she said. "We hope to send a poster in the mail to every residential address in Santa Maria. Customers can get a two-for-one deal with any two combos, with one at 40 percent off if the other is purchased at full price."
Though 101 Grill's business isn't as brisk as Greene would like, she said there are already some popular menu items.
"The short ribs, (Cult Classic) burger, garlic chicken, teriyaki chicken, and pork katsu are the best sellers," Greene said.
The 101 Grill is fairly new, but Greene is no newbie to the restaurant business.
She's part owner of Cha 101 in Santa Maria, which features a variety of boba teas in addition to Taiwanese snacks—pot stickers are popular—near Ross and the 99 Cents Only Store on Betteravia. Cha 101 has been open since 2016, and although she likes their teas very much, Greene said some of their menu items aren't an all-day drink for her.
"I can't drink the caffeine in the afternoon or evening, or I cannot sleep. The young people don't seem to worry about that. Cha 101 is very popular with Hancock College students," she said.
With Cha 101 humming along, Greene decided she could go with another restaurant passion of hers: helping create an upscale fast food establishment in Santa Maria.
"I had been in the restaurant business for 20 years, and I was ready to go with my passion," Greene said.
Greene said Xiaoqian Liu, Michael's wife and a close friend, helps run Cha 101.
"Since Cha 101 is stable, I can spend most of my time [at 101 Grill]," said Greene. "I'm always working."
Though she's often busy with work, Greene said she does get to see her siblings and her mother, who live in the area.
"My mom is 81 years old, but she looks younger," Greene said. "She looks great."
Greene moved to Santa Maria in 2012, and has been enthralled with the area ever since.
"Santa Maria is not a big city, and I like that. The people here are very friendly. The weather is nice, although [the first half of October] was really hot."
Eventually, Greene would like to open another business in Santa Maria, though that will be sometime down the road.
"Once [101 Grill's] business settles down, I can consider the next step. The people here are really nice," she said. "That's why I opened another restaurant in Santa Maria."