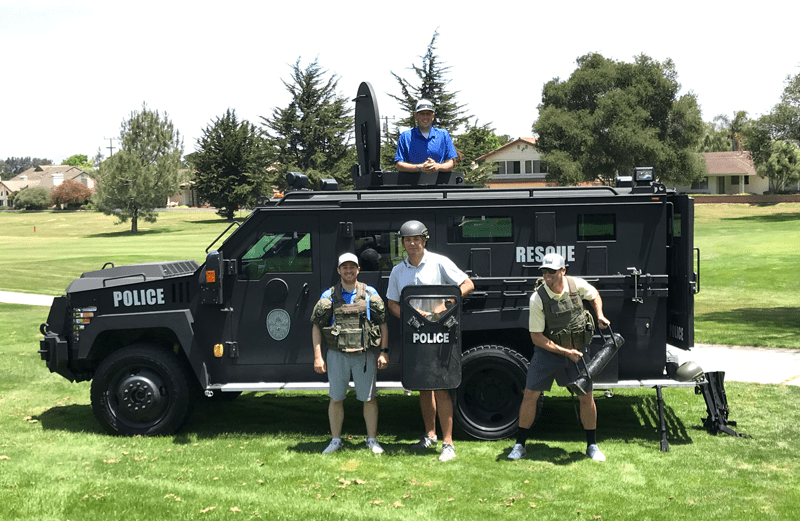 SANTA MARIA, Calif. –  On June 11th, 2019 representatives of Westar Associates attended the "11th Annual Golf Tournament and Comedy Night" hosted by the Santa Maria Police Council, a nonprofit organization. Each year this event helps the council raise money for new technology and equipment that would otherwise not be available to the police department. As a Tournament Sponsor, Westar representatives participated in the four-person scramble golf tournament, followed by a barbecue lunch and a comedy night dinner. The nonprofit organization raises around $100,000 every year with this event.
ABOUT THE SANTA MARIA POLICE COUNCIL
The Santa Maria Police Council ("the Council") was created to assist and support the Santa Maria Police Department. Organized as a non-profit 501(c) 3 charitable organization, the Council aids the Police Department's leadership by providing critical resources that will help the men and women who safeguard the community.
The Council helps fill the gap between the Department's increasing public need for law enforcement and tightening city budgets. The Council functions primarily as a fund-raising organization with the emphasis on supplementing equipment and training needs of the Santa Maria Police Department.
The Council works to enhance relations between the community and the Police Department, promote public safety through special events and activities, and recognize the extraordinary efforts of the men and women of the Department.
PHOTO DETAILS: Representatives of Westar Associates and Brandan Gonzalez of the Santa Maria Police Department participating in the event's annual golf tournament.  Pictured (left to right): Zach Lelevier-Joseph (Vice President, Development/ Westar Associates); Chris Walton (Vice President, Leasing/ Westar Associates); Brandan Gonzalez (Santa Maria Police Department); Peter Bethea (Leasing Manager/ Westar Associates)