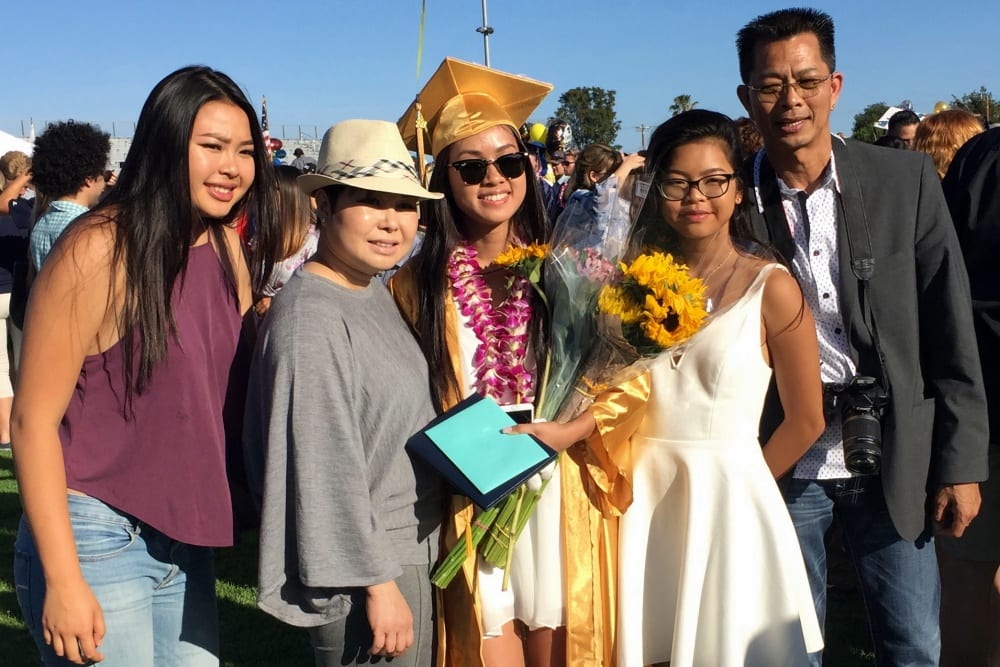 GOLETA, Calif. – Alice Tran may be the most well-known and popular manicurist in Montecito, but the remarkable route that led the Vietnamese immigrant to her American dream is particularly noteworthy this Fourth of July.
Tran and her father emigrated to a Hong Kong refugee camp from Vietnam in 1982. Sponsored by friends in Boston, they later came to the United States, first settling in San Jose and then in Portland in 1984.
While in the refugee camp in Hong Kong, the then 13-year-old Alice met her future husband, Loi. Eventually reunited in Santa Barbara, they married and had three daughters. Lilian, 19, Lealanna, 17, and Maleah, 15, all attended local schools up through Dos Pueblos High School, and Lilian is now a student at Santa Barbara City College.
A licensed nail technician, Tran's first job in Montecito was working for Leora Gaspar at Red Studio, where she started in 1989 and soon became very successful. The wait for an appointment was always worth it.
Ten years later, in 2000, Tran's American dream came true when she opened her own nail salon at 1150 Coast Village Road.
Alice's Nail Boutique is a hub for schmoozing and an oasis of beauty for people from all over Santa Barbara County's South Coast. Stop by for a manicure and you're most likely to run into a friend, or even see Portia and Ellen DeGeneres sitting in the next spa chairs.
When she became an entrepreneur, Tran quickly learned the challenges of doing business. Employees, insurance, long hours.
Having her own name on the sign means that every manicure that goes out the door is a reflection of her. Tran has trained many tail technicians who have gone on to open their own salons, but she continues to be a trail blazer and has set the bar high for all others.
Using only the most upscale nail products and oodles of different color polishes, Tran's boutique provides the latest techniques, from powder dip, gel, plain and regular manicures and pedicures and waxing.
Women — and men — of all ages have standing appointments weeks ahead, but walk-ins are welcome. Customers return week after week, and year after year.
Like so many other Montecito businesses, Alice's Nail Boutique was hit hard by the Thomas Fire and the Montecito flash flooding and debris flows. Tran's shop was closed for many weeks, with her clients scattered and grieving.
"Things are improving every day but it has been tough!" she told Noozhawk. "My heart goes out to the entire business community. We are all glad to be seeing the light and appreciate client loyalty."
Two years ago, Tran opened a second nail salon, Polished Nail Spa in Hollister Village Plaza, near her home in Goleta. Her husband, Loi, runs the Goleta salon, which provides nail, facial and waxing services. The shop was a vital lifeline for the business in the aftermath of the Montecito disasters.
As a thank you for supporting her for the past 18 years, Tran is offering an anniversary special, from Wednesday through Labor Day. The treatment includes a mini mani/pedi for $55.
While the current news cycle is filled with disturbing stories involving immigration, Alice Tran's immigration story has a happy ending — for her and her family, and for us. It's well worth remembering this Independence Day.
Alice's Nail Salon is open 9 a.m. to 6 p.m. Mondays through Saturdays. Call 805.695.0800 for more information.