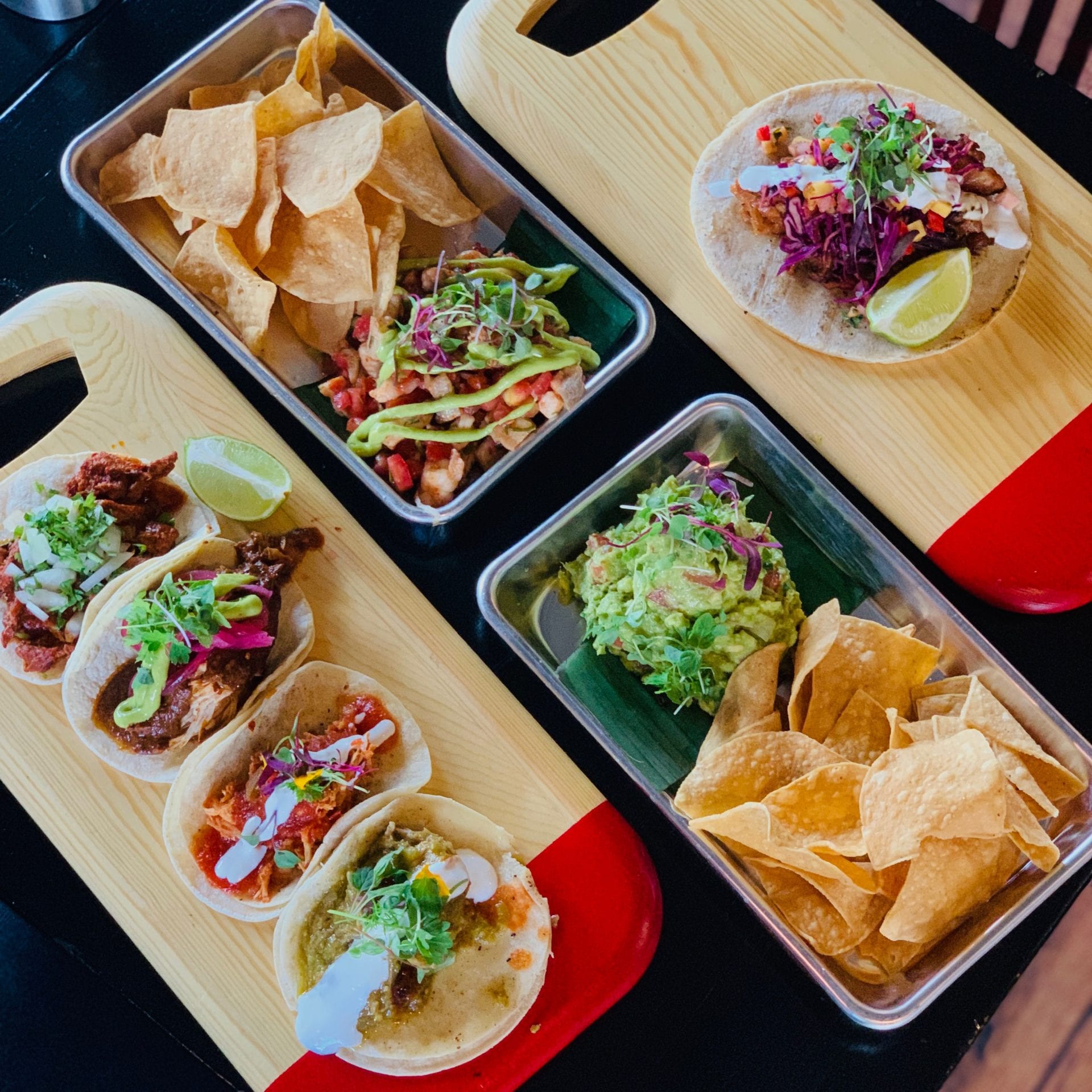 Ladera Ranch, CA (September 17, 2019) – Xclusive Taqueria Moderna, a modern elevated Mexican cuisine restaurant, opened Saturday, September 14th at Terrace Shops in Ladera Ranch. The new restaurant is owned and operated by three award winning, fine dining executive chefs including Golden Foodie Award winner Chef Manny Velasco, Food Network Star Chef Chris Tzorin, and Chef Eddie Perez.
The 1,500 sq. ft. restaurant offers an intimate atmosphere that prepares traditional Mexican dishes, as well as fusion-style plates with a sophisticated presentation. The menu is constantly changing as all dishes are prepared using fresh, local, organic, sustainable, and seasonal ingredients, with gluten free and vegan options available, all at family-friendly price points. The restaurant is open for breakfast, lunch and dinner daily, with a weekend brunch option available. Along with the restaurant, the Xclusive team books out the Xclusive Food Truck for residential or corporate events, and offers catering as well as private chef dinners with custom menus that customers can entertain in the comfort of their own home.
The restaurant menu includes an array of gourmet tacos, such as angus rib eye, cajun baja shrimp, chicken mole, and pork belly. Some traditional classic dishes include enchiladas de camarón, las fajitas, braised short ribs, cheese chile relleno, and street tacos with choice of steak, chicken, carnitas, and al pastor for protein. The restaurant also offers shared plates such as calamari, ceviche, and empanadas, as well as Mexican soda and agua frescas with alcoholic beverages coming soon.
Xclusive Taqueria Moderna is owned and operated by Chef Manny Velasco, Chef Chris Tzorin, and Chef Eddie Perez, three award winning, fine dining chefs with decades of experience in the culinary industry. Chef Velasco, a Golden Foodie Award winner, is also the owner of the Sol Agave Food Truck and Sol Agave Restaurant in San Juan Capistrano and Mission Viejo. Chef Tzorin has appeared on Food Network shows including Cutthroat Kitchen, Guy's Grocery Games, and Man vs. Child: Chef Showdown. Chef Eddie Perez has over 20 years of experience working as head chef for fine dining restaurants nation-wide.
"We have built an amazing, dedicated team and we are so excited to bring our culinary passion to the families of Ladera Ranch," says Chef Chris Tzorin, Owner of Xclusive Taqueria Moderna. "Our restaurant is our home and we cannot wait for you all to come over try our Xclusive creations."     
Xclusive Taqueria Moderna is open Sunday through Thursday from 7am to 10pm, and Friday and Saturday from 7am to 11pm.  The restaurant is located in the Terrace Shops shopping center at 1701 Corporate Drive in Ladera Ranch. For more information or to book private events, please call 949-423-8922 or visit xclusiverestaurants.com. For restaurant news and updates, follow @xclusiverestaurants or @christzorin on Instagram.